"
Two-Face's
truck is a heavily-armoured vehicle painted in the villain's distinctive black-and-white motif."
[[Lego Batman DS|Lego Batman D.S.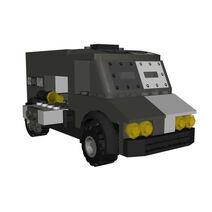 ]]
LEGO Batman set
Two-Face's armoured truck appears in the LEGO set entitled "Two-Face's Escape" with the Batmobile.
Two-Face's armored truck is unlocked after you complete the villain level dubbed
"An Enterprising Theft."
However, it
appears
as a boss in
"Two-Face Chase,"
where it is eventually destroyed after
the Riddler escapes
with
Poison Ivy.
On
the Nintendo D.S. version, 
it appears on
Batmobile Chase
(the third level of the
Bullion Dollar Riddle
) in Hero mode, where players are playing as the Batmobile, chasing Two-Face and
the Riddler
. In the villain level, however, players drive the truck whilst trying to escape
Batman
. It is unlockable in the
minikit
-viewing area in the
Batcave
. It is unlocked after finding all of the minikit-canisters in
Gotham Streets
.
Ad blocker interference detected!
Wikia is a free-to-use site that makes money from advertising. We have a modified experience for viewers using ad blockers

Wikia is not accessible if you've made further modifications. Remove the custom ad blocker rule(s) and the page will load as expected.