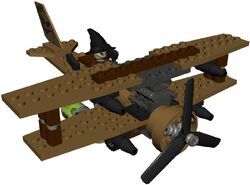 The Scarecrow's Biplane was a Biplane used by The Scarecrow. It was destroyed when it collided with The Joker's Helicopter . It appears as a boss in Lego Batman: The Videogame in The Joker's Return level 3 where Batman in his Batwing shoots it and it crashes with The Joker's Helicopter but Joker and Scarecrow make it alive.
In Nintendo DS The Scarecrow's Bi-plane appears as a boss in Batwing Chase and playable in Villian Mode.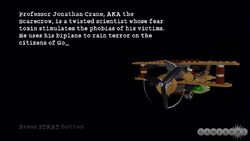 Ad blocker interference detected!
Wikia is a free-to-use site that makes money from advertising. We have a modified experience for viewers using ad blockers

Wikia is not accessible if you've made further modifications. Remove the custom ad blocker rule(s) and the page will load as expected.