Mad Hatter

[[Image:.|.px]]

Real name:

Jarvis Techs

Side:

Allies:

No. of LEGO sets:

No information

Voiced by:

Koji Yusa
Chris Egderly
Keith Ferguson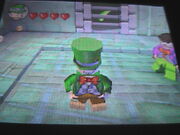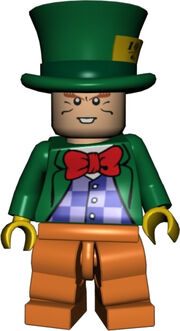 Character background
"Mad Hatter (Jervis Tetch) was inspired by the lunacy of Alice's Adventures In Wonderland to commit crimes. He uses his mind-controlling skills to bend people to his will, and is never seen without a large and fantastic hat." -Lego Batman D.S.
The Mad Hatter is an insane villain who often acts as a thief, apparently obsessed with stealing hats to finish his collection of headwear.
After escaping from
Arkham Asylum
, Mad Hatter joins forces with
the Joker
. When the Joker sets out for
Gotham Cathedral
, he stays behind at
the Chemical Factory
in case
Batman
and
Robin
show up. When the Dynamic Duo do arrive, Mad Hatter is defeated with a solid punch from Batman. He is last seen in the epilogue of the adventure, where he is happily sipping tea in his cell at Arkham Asylum while petting a rabbit.
Equipment and abilities
Mad Hatter has an expertise in demolitions, carries a pistol around, and has the ability to use travel-chutes. he also has a unique double-jump, due to a propeller in his hat.
Appearance
Mad Hatter is a short villain, wearing an outfit that resembles Tenniel's original illustration of the Mad Hatter in Carrol's book. He wears an abnormally large, green hat that contains a mind controlling band inside. He also wears a checkered vest, tacky bowtie, green jacket, and orange pants. He also has a very large and obvious overbite.